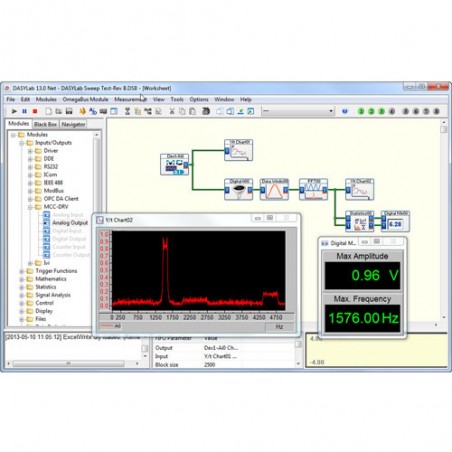  
DASYLab Basic
A program for building DAQ applications.
DASYlab (Data Acquisition System Laboratory) is a software tool designed to build software control and measurement applications. The package implements a graphical programming language that frees the application designer from cumbersome programming with traditional techniques such as VB, C, C ++, VC, Delphi, etc. The designer "draws" the algorithm for acquiring, processing and imaging acquired data in the form of a block diagram containing interconnected "blocks" representing individual functions (eg, reading 128 samples from 8 channels, scaling, averaging, plot of amplitude vs time). DASYlab allows the designer to focus on the algorithm itself, not on the tedious coding.
DASYlab is offered in several variants with a varying number of functional modules.
DASYLab Basic:
Basic functions of signal analysis (FFT)
GPIB and RS232 support
Limited number of network functions
DAQ card support prod. MCC, NI, Advantech and many more
No restrictions on the number of blocks, 200 layers
Free trial version (28 days) available  here
Data sheet
Software

For DAQ
3 other products in the same category: